Cheapest getaway ever- San Juan, Puerto Rico.


My vacations choose me, rarely do I choose them. So when
JetBlue
had a sale from Newark to San Juan for
$159.50
(TOTAL!), Puerto Rico was calling my name. Beach vacations have never appealed to me, but after looking into it, San Juan's rich history and 16th Century forts and architecture piqued my interest (not to mention my increasing depression due to the 30 degree Philadelphia weather). And let's be honest, my thriftiness couldn't say no to the cheap cheap airfare.
The catch was that the flight left Newark at 10:30 pm Thursday night and arrived in San Juan at 3:30 Friday morning. After recruiting 3 of my best adventurous ladies, the plan was to go to a 24 hour casino, watch the sunrise on the beach, and lay around until a 3:00 pm check in. After a lot of research from travelers' reviews on Yahoo.com (extremely helpful when looking for a hotel/motel), I decided to go with a brand name, and chose the Holiday Inn Express in the Condado region of San Juan for Friday and Saturday nights. The rate per night was $135, but dropped to a non-refundable
$112
if you pre-paid. (total
$62
per person). Our flight was delayed (thanks to snow) so we arrived in San Juan at 5:30 am and took a cab to the Wyndham Hotel and Casino (
$15,
about a 15 minute ride). The casino wouldn't let us in with our bags, so we had breakfast and delicious Puerto Rican espresso and watched the sunrise, then walked along the beach to our hotel to see if we could check our bags until check-in. Puerto Ricans are extremely friendly (prepare to get whistled at NON STOP) and the workers at The Holiday Inn Express were great. We arrived at the hotel at about 8 am (like I said, check-in was at 3pm), and when I asked if we could check our bags, they told us we could check-in right then and told us to grab something at the breakfast buffet first! We grabbed some coffee, bananas and bagels, took a quick nap then hit the beach. The hotel was on a little side street, with the laguna on one side, and the beach 1/2 block away. Also in the area are high end shops (Dior, Cartier), bars, restaurants (from Subway to native food places to nicer restaurants) and convenience stores.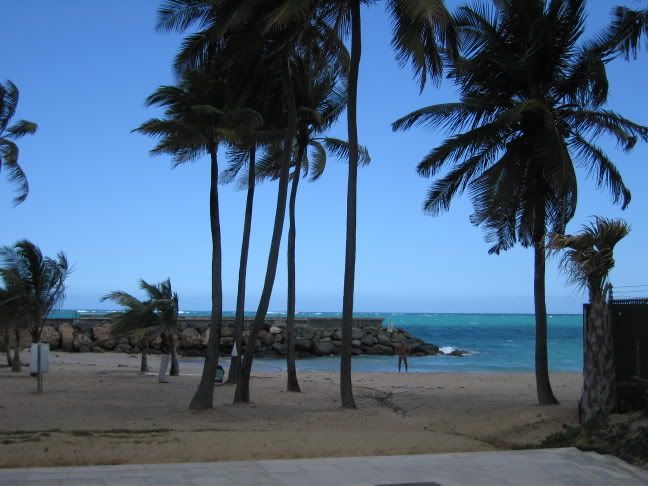 Some of the beaches are "private"...as we soon found infront of the Marriott, after they kicked us out for "sitting on their chairs." Walking along Condado Beach passed the Marriott, we found a natural tide pool surrounded by rocks that broke the waves. The pool is perfect for wading, and the water was as warm as a bath. Its a great place for kids, or for sitting in the water and enjoying a Corona!
We quickly made our residence at the Atlantic Beach Hotel and Bar (on Ashford Avenue and facing the ocean) - the local gay bar. The gay bar RIGHT on the beach, with CRAZY drink specials and HOT straight bartenders. Half Price Happy Hour daily from 5-7 (we decided to soley drink frozen tropical drinks, as we were in PARADISE), good tunes, Sunday Drag show, and most importantly the ONLY bar on the beach. We settled in for the long haul.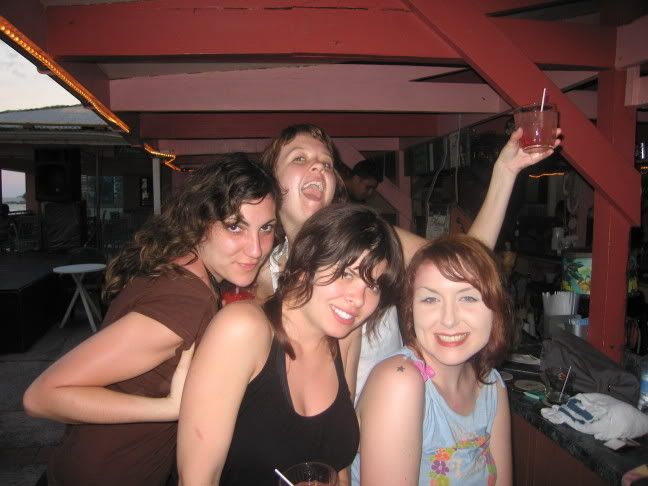 Aside from drinks (
$5
full price,
$3
at Happy hour) there weren't many other costs. We ate cheaply by stocking up at the breakfast buffet, getting take out, or just going to Subway. After all, we weren't in Puerto Rico to eat. We dined at a Puerto Rican restaurant one night, and found little for our vegetarian requirements. For
$11
/each, we got platters of cheese flautas, cheese quesadilla type things, fried cheese and cheese...something else. I wanted to die soon after. I ran to the nearest convenience store and got a bottle of Bacardi (
$5
), which is made in San Juan!
Friday night we took a
$10
cab to Old San Juan. It reminded me alot of Barcelona, the winding alleys, cobblestones, Spanish architecture. Its also the tourist center, so everything is really expensive. We went to a crappy restaurant for chips and guacamole (
$11)
, and the weak margaritas ranged from
$12-$35
. (this pic is not mine- I'd forgotten my camera that day)
I wish I'd explored Old San Juan more, but the prospect of relaxation and the beach won out over site seeing. I've never taken a relaxing vacation in my life, I'm very "east coast"..always have to be running around, exlporing, always in a rush...so this time I decided to actually unwind, sit on the beach, relax, swim. So, I missed alot. But the trip was so cheap, I know I'll break my "don't go to the same place twice" rule and spend another long weekend there soon.
Our flight back was at 4 am on Monday morning (another "catch" of the cheap airfare) and we decided not to get a hotel room for Sunday night. The Holiday Inn let us lie by the pool until midnight, then we took a cab to the airport and slept there until our flight.
Honestly, I really expected Puerto Rico to be ghetto. I thought it'd be a cheap weekend of beach bumming and drinking, but instead I completely fell in love with it. It WAS cheap, but so surprisingly cosmopolitan, friendly and historically rich.
Total cost per person from Friday morning until Sunday night:
Airfare
$159.50
Hotel
62.00
Cabs
10.00
Drinks/food
70.00
TOTAL $301.50