The Sexy Scottish Highlands


A few years ago I spent a semester in London. I was like the only poor kid in the program ("poor" meaning Mommy and Daddy didn't pay for everything), so I didn't get to galavant around Europe on the weekends with Daddy's credit card. I did, however, spend some time traveling around the UK and took an amazing tour in Scotland.
I've always thought tours were for nerds. Being in a group with other blatant tourists always seemed tacky to me, but my friends talked me into this tour as a way to see the Scottish Highlands, which are otherwise hard to get around without a car. This tour was like no other.
http://www.haggisadventures.com
For about
$100
, I traveled all around Scotland on a mini bus, in a group of about 20 people. We'd drive for an hour or so, then stop and see some amazing 15th century castle, or highland cows, or stand atop a mountain. The guides are young, knowledgeable, and sarcastic- just like the Zizzler! The tour began in amazing Edinburgh. I took a red eye bus from London for about
$30
. NEVER WOULD I SUGGEST DOING THIS UNLESS YOU HATE LIFE! 9 hours on a freezing bus with no leg room. People, I am all for being thrifty, but I should've spent the extra money for a train or plane. We arrived in Edinburgh around 6 am- the tour departs at 8:15 am, so no joke I had to wash in a MCDONALD'S. But that was the last of the bad parts of the trip.
We spent the first night in a little town on Loch Ness. There are no trespassing laws in Scotland, so when I asked a policeman what sites to see that evening, he told us to "buy a bottle of wine, hike down that road in the dark for 3 miles, then hop the fence to Castle Urquhart and look for Nessie." And that we did. Highland cows and sheep roam free in Scotland, so when we walked the 2 miles in the dark, all we could hear were constant bleating and lowing from various elevations all around us. We spent the night sitting in the 13th Century castle, drinking the worst beer ever, Fraoch, which is an ancient Druid recipe brewed from heather, and boy you can tell. A truly amazing night.
The tour doesn't include food or lodging, so you are free to spend as little or as much as you want. They book spaces at nicer hostels, for about
$15
a night, which includes breakfast. You have the option of booking b&b's if you want, but the hostels were great. The object of the tour is to see as much as possible, and they really try to get you off the bus and exploring every hour or so.
We hiked into the mountains and drank from a natural spring, saw the William Wallace Memorial (with a newer statue that looks exactly like Mel Gibson) and shopped in the cutest Loch Ness monster gift shops. Scotland is dotted with countless abandoned castles, and our tourguide made sure to stop at each one.
The second night we stayed in the Isle of Skye, in a remote little town consisting of 2 hostels, one store, a handful of houses, 15th century Castle Moil, and 3 pubs. Yes, a handful of houses and THREE pubs. I love Scotland. We met about 1000 Canadians that night. The hostel was above a pub called Saucy Mary's, named after a queen who charged a toll to all ships that passed the area, and would in turn flash them after paying the toll. VERY saucy.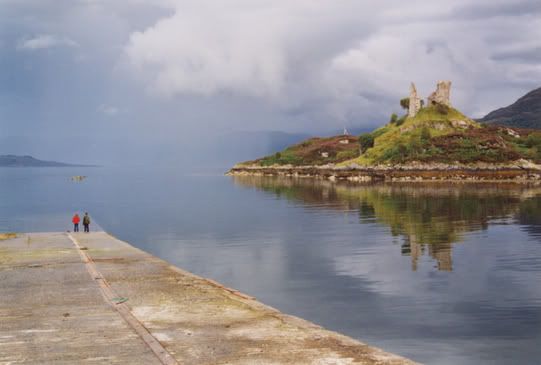 The hostel itself was only about
$15
and included the best home made biscuits and clotted cream and jam ever. You could hike to the castle, but it took a few hours and is only ruins...and we really wanted to hit the THREE pubs instead. Scottish people are so welcoming and friendly, and have such a strong sense of national pride. Every place we visited, we were greeted and told local stories by the locals. The tourguide shared stories of Scottish Folklore...of which there are many...and she made us listen to The Proclaimers about 100 times. The tour ends in Edinburgh, which is an amazing city that I need to re-visit. It is nicknamed the Prague of the west, as it has a ton of Victorian architecture constructed as an homage to Queen Victoria's love for the city. This blog entry spurred me to read the Haggis tour's website again, and I found a section to enter photographs for a chance to win a tour! I entered the one of Castle Moil above, and the one of the bridge to Isle of Skye. I rarely want to go back to the same place twice, but I am seriously considering making a trip to mainly Scotland this summer....any takers?