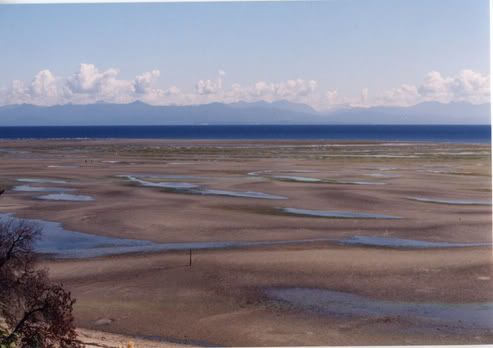 Beaches are Free
Aside from my much needed respite in Puerto Rico, I am not a beach girl. Baking in the sun for hours bores the hell out of me. I like to swim...and play in the sand, but then that covers 30 minutes, what do I do for the rest of the day? I don't tan (skin cancer is for jerks and dead people) and reading in the super sun hurts my eyes. But now its getting to be the perfect time of year to visit the Jersey Shore. Its warm enough to walk the beach in a jacket, but cold enough to keep the beach jerks away. I love wandering around closed up beach towns on misty, moody days. The now abandoned amusement parks with ancient ferris wheels make a perfect backdrop for a photo project day, which you can later use to make notecards for friends. Its quiet, serene, and you can feel like you are the only person in the world. These are my favorite beach days.
Unless of course you are lucky enough to live in the Pacific Northwest. I have family in Vancouver, BC, and every summer they rent a condo on Vancouver Island for a week. These are the kinds of beaches I truly love; rocky, full of creatures and nature, and surrounded by mountains and breathtaking views. My family rents a place in Madrona, near Parksville on Vancouver Island. The beach is semi private and is full of tide pools, sand dollars, hiking spots and mountains. Aside from a great photo project, the days are spent treasure hunting for sand dollars, shells, or cracking open oysters in hopes to find a pearl (I know, its not very vegetarian to do so, but I've been guilty of it).
Sand dollars, although very fragile, make great souvenirs. I think most people don't think of them as living creatures, as opposed to shells. When they are alive they are black, and when they die they turn white and harden. They live in tide pools or in water right below the surface of the sand, and float more to the surface when dead. I've collected sand dollars of of all sizes, glued baby ones to a box for my cousin, made necklaces...they are just so visually pleasing that the ideas are endless, and they aren't as "tacky" as shells. I have a few just displayed on a shelf in my room, they still shed some sand now and then, reminding me of my last trip.