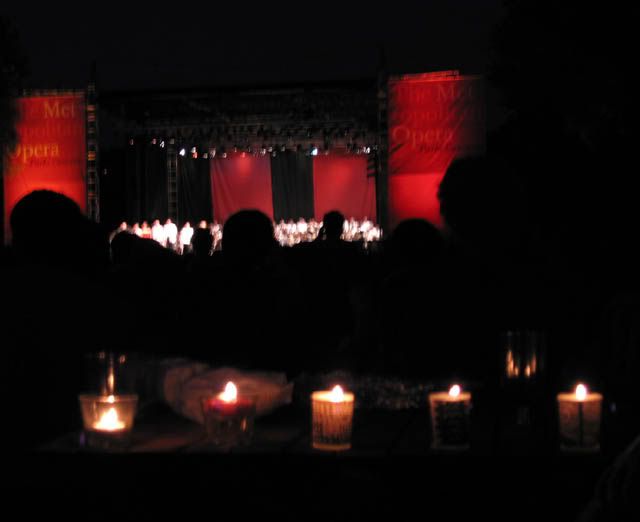 Making Something out of Nothing
Wednesday night I went to an outdoor
free opera at Central Park
. My loan checks haven't come yet, I'm living on the little savings I had from Philadelphia. So I kind of panicked. We were meeting up with a lot of people, my roommate's friends, and their friends, basically a whole bunch of people I didn't know. So I couldn't exactly show up empty handed. My fridge was seemingly empty, so I had to get creative- and did I! I even impressed myself.
My mom bought me a picnic backpack a few years ago. It's great- includes place settings for four, glasses, cloth napkins, corkscrew, a cutting board, refrigerated food and bottle section. FINALLY, I got to use it.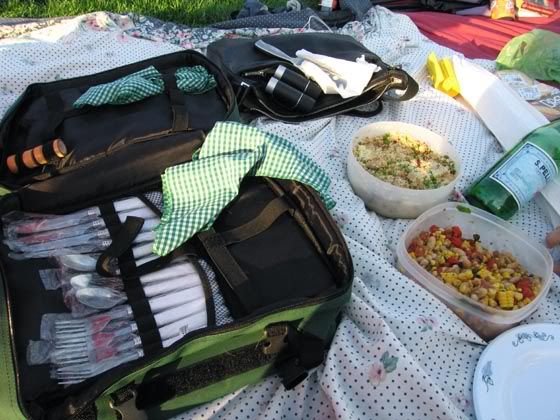 With the most minimal ingredients possible (I literally had 5 slices of bread), I created this menu:
-roasted corn off the cob salad with fresh tomatoes, roasted canellini beans, fresh
basil in a vinaigrette
-crust-on tea sandwiches with salsa sour cream, avocado, roasted red pepper and basil,
-couscous salad with sesame/soy tofu, grilled onions and peas
The picnic was a hit! paired with some red wine and Cate's basil lemonade, blankets and (the most important thing) CANDLES, it was a perfect evening. Summer is almost over! I'm going to be picnicking as much as possible!