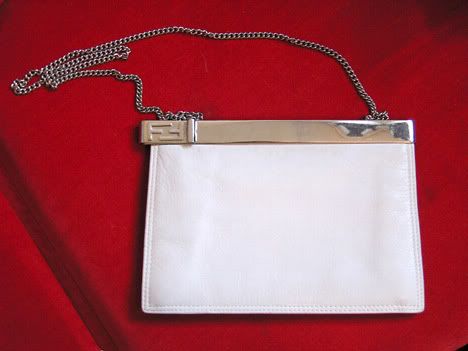 I Need You Now!
Ok I need some advice. I've had this white leather Fendi purse for a few years now. A really mean ex bought it for me. I've tried to sell it a few times with no success. I'm not sure when it was made or how much its worth, but it's actually really cool and sleek. Anyway, I wonder if I'm the Fendi type? I've barely used it. So here's where you come in.
Should I a) keep it as is b) sell it or c) commission an artist I like to screenprint an original work on it? I've been knocking around the third idea for quite some time, but I'm sort of afraid that it'll get messed up. But it could be really cool...I don't know! Please comment with your vote!
For some reason I always associate ebay with getting ripped off, but recently I "discovered" searching for "lot jewelry collections." I got these two fabulous vintage collections for
$27
total(including shipping) ! I figure if some of the items are broken, I can most definitely use them in other projects. In fact, you know I will.