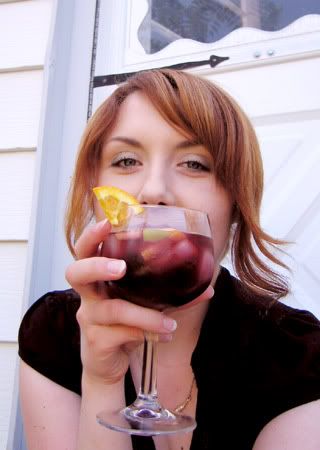 Watching People Have a Good Time in the Summertime!
Summer fun. Outdoor patios. Frosty fruity drinks. Dresses and cool summer breezes, and daylight lasting until 8:30 pm. I want to do everything outside, and love to spend my money on happy hours and dinners at restaurants and bars with outdoor seating. But I especially love gathering a crew of friends in the park, lounging on blankets and sipping (well-concealed) sangria.
A traditional sangria recipe involves sugar, good red wine, citrus fruits and some sort of liquor- usually brandy, white rum or triple sec. You'd combine the sugar with the red wine over a stove, or set in the fridge for 12-24 hours. This IS delicious, but I don't always have the time to do it right. Also, having spent most of my money on previously said happy hours and dinners, I've been reduced to creating ghetto sangria recipes, OR buying boxed sangria. Yes. BOXED wine. I decided to just try it for its sheer cheapness/kitsch, and it is surprisingly good! A 5 liter box of Franza Sangria is
$8-$11
, depending where you live. With cut up fruit it's amazing, and hides and pours well from a backpack. If you feel like being more creative, I've created 2 "recipes"
Recipe 1:
Bottle of cheap Merlot or table red
12 ounces of lemonade, or Lorina Sparkling Lemonade
chopped apples, oranges, lemons, limes
Recipe 2:
Bottle of cheap Merlot or table red
16 ounces of flavored seltzer (I like to use raspberry or Berry sparkling water from Target)
chopped strawberries, maraschino cherries, lemons
Both recipes taste better when you let the fruit sit in the mixtures and infuse awhile. Pour over ice and serve with lots of fruit in each cup.
Now for the perfect evening, I take snacks, blanket, BUG SPRAY, opaque cups and the most important part- I bring a little romance to the park and light a candle in the middle of it all. It sets the "mood". The mood for making fun of park jerks.