And I'm Back...
A new apartment, a new city, a few trips and a year older. I'm back. My camera still isn't. But I borrowed one for a lovely birthday trip to Niagara Falls, one of my favorite places of all time. Sure, it's one of the wonders of the world, but it is also an amazingly plastic cheesy Times Square-esque spectacle. And where else can you WALK to Canada?
The American side of Niagara Falls is kind of ghetto. There really isn't much there aside from the park. A bunch of fast food Indian places have sprung up in the last few years. There's an always vacant Hard Rock Cafe. And a new Seneca Casino, but it is usually pretty boring and/or full of seriously old people. But the Falls on the American side are amazing. The park overlooks the top of the Falls, you can watch it spill over into the gorge from above. You can walk out onto Goat Island, which is in between the American and Horseshoe Falls, and even out on Three Sisters Island, which goes directly into the rapids.
It's a rocky, glacially-cut island, in the winter you could walk right out if you wanted. In summer, it's guarded by rangers. You can sit on the rocks and listen to the Falls for hours. When I was in highschool, I'd take boys there and tell them it was "our secret spot." I was a deviant even then...
Other than Three Sisters Island, the American side also has the Cave of the Winds, which is a walkway under part of the Falls.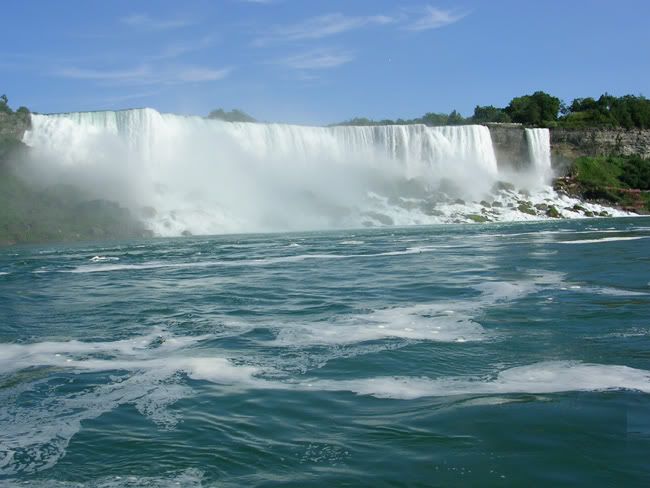 Rebuilt every year, the wooden steps go under the Bridal Veil Falls, a small outpouring at the righthand side of the American Falls. For
$10
, my ex and I used to go there in the summer time to beat the heat. They give you rain slickers and these gross shoes that you have to wear, I suggest wearing socks that you don't want anymore. You walk along a series of steps and bridges under varying degrees of the Falls, with an optional "Hurricane Deck," a super turbulent section that wusses can avoid. Prepare to get wet! You really don't have to spend money at all. Goat Island is free, you can bring a picnic, and you can find free street parking if you look. Most people don't , and head straight for the garage which is
$10
.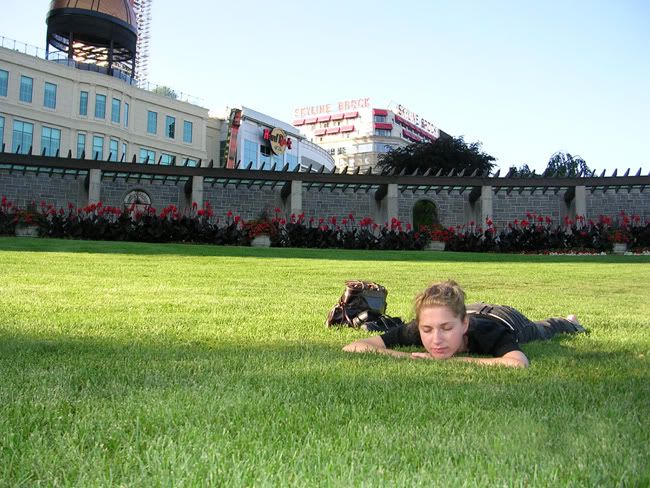 To get a different view of the Falls, head over the Rainbow Bridge to Canada. I prefer to walk, it costs
50 cents
on the way back, or is
$3
to drive over plus parking. And walking to another country is kind of neat, and you get a great view of the gorge and both sides of the Falls. Now, Niagara Falls Canada vs. Niagara Falls USA is like night and day. Welcome to Sensory Overload. When you first enter Canada (bring your passport- they actually stamped mine this time),
you are greeted by the Secret Garden, an amazing area created by the University of Horticulture. The garden includes secluded benches, fountains, a koi pond with Japanese bridge, and at the foot of Clifton Hill, my most favorite grassy knoll ever. It is seriously the most comfortable grass my feet have ever felt. Set on a slight incline, I love to lay in the grass and watch the Falls in the distance. What a perfect place! After relaxing, I headed down by the Falls to the Maid of the Mist. You can catch the Maid on the American side too for
$11
.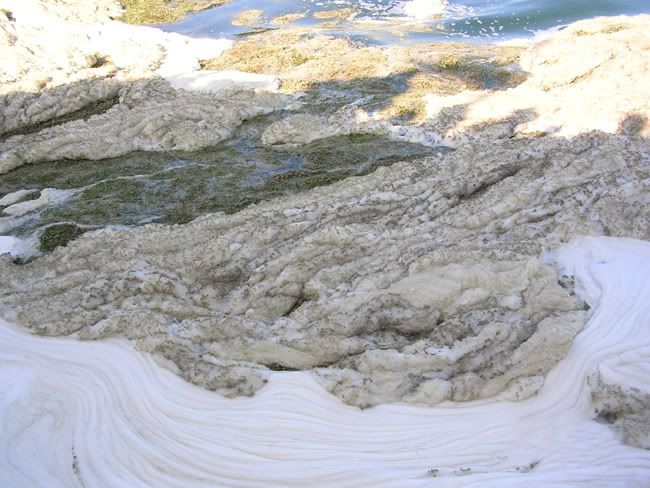 In the past, the American dollar has been much stronger than the Canadian dollar. Not being in Canada for some time now, I didn't realize that our dollar sucks now.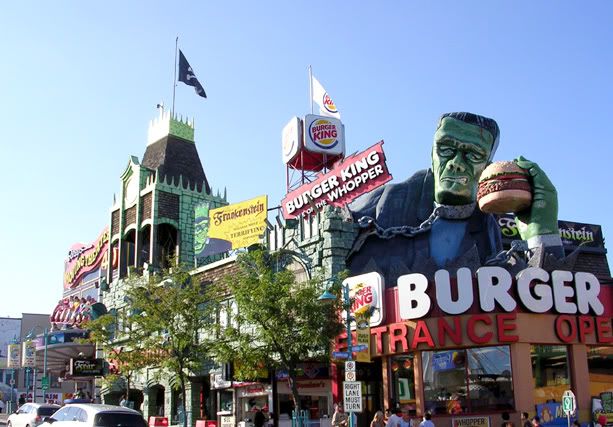 So I suggested going on the Canadian Maid to save money via the exchange. Yea, I was wrong- its
$14
there, and ourdollar is only worth
$1.08
Canadian! Oh well. It was worth it! The Maid of the Mist is a boat that takes you right to the base of the American Falls, then hovers in the center of Horseshoe Falls. It is AMAZING! I LOVE IT!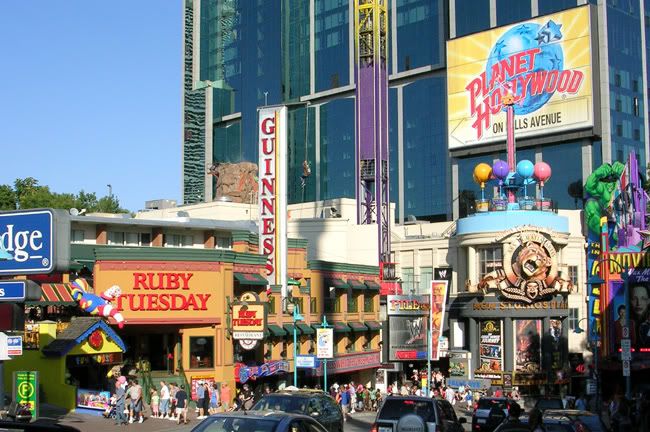 It's like a tornado- you're surrounded by rushing water, crazy waves, wind and "rain." You also get an up close view of the gross scummy foam that the Falls produces, it literally looks like an iced capuccinno. It's exciting and fun! And you can keep the tacky blue rain poncho... After cooling off, head to the lights and sounds of Clifton Hill. If you like wasting money, this is for you. Haunted houses, WWF/Spiderman rides, a new giant ferris wheel, and a million weird "museums" and wax museums abound.
Actually, some of them are really fun. I love the haunted houses. Most are cheesy, except Nightmares, which is straight up scary! I love the tackiness though, and all of the weird souvenir shops with Canada this and Indian that. They have the most random T
shirts, like an angry cat that says "I don't do mornings. Niagara Falls, Canada." Sadly, I frequently buy souvenir Ts and jewelry and incorporate them into my daily wardrobe...
After stocking up on Cadbury Aero and Crunchie candy bars, I finished the night at the Niagara Casino. They have a great buffet for
$16.95
- something for everyone, even vegetarian me. The Canadian casino has a nice cocktail lounge and attracts a younger crowd than the American side- and you only have to be 19 to gamble and drink. (here's to you, Mrs. Robinson) I'm not a big gambler. I played $20 on the slots and came back with $40...I know BIG TIME, right?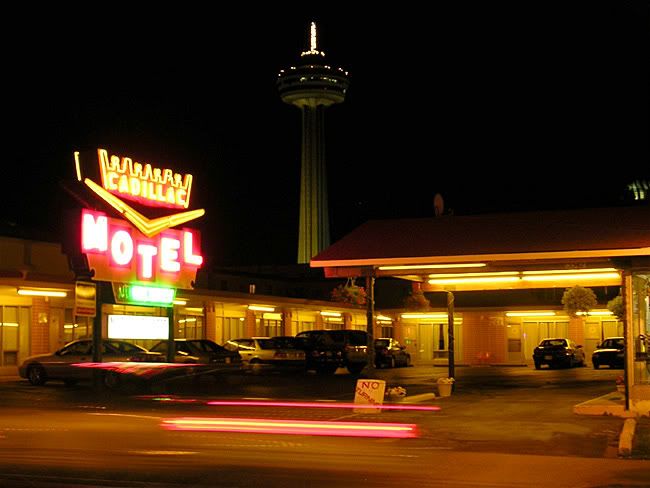 But you get free drinks while you're gambling. I went back home after my jaunt, but occasionally I've stayed over. In winter, jacuzzi suites can go for only
$60
! There are also a ton of kitschy 1950s motels still in operation. Niagara is a great weekend trip, with Toronto only an hour away. I've been there a million times and probably will a million more. For some reason I just love everything about that place...maybe I'm showing my truly kitschy/cheesy roots? Either way, I'll always go back.